Membership - Season 2022
Rotate your screen for a better view of the table
INDIVIDUAL SUBSCRIPTIONS
 
 

Until March 1st

Starting March 2nd 

 
 
TPS+TVQ
 
 

1- SEVEN (7) DAYS

$2360.00
$353.41
 $2713.41
$2983.60

2- FIVE (5) DAYS *

$1940.00
$290.41
$2230.52
$2448.97

3- INTERMEDIATE 1

$1300.00
$ 194.68
 
$1494.68

4- INTERMEDIATE 2

$ 625.00
$ 93.59
 
$ 718.59

5- JUNIOR  1

$ 600.00
$ 89.85
 
$ 689.85

6- JUNIOR 2

$ 
$ 
 
$ 

7-Booklet 40+ 

 

 
 
 
$1520,00

Membership

$ 85.00
+ tx
 
 

Locker in the changing room

$ 100.00
+ tx
 
 

Club storage

$ 100.00
+ tx
 
 

8- BASKETS of balls

$ 300.00
+ tx
 
 

9- ELECTRIC CART 

$ 30.00
+ tx
 
 

Flat rate for 20 carts

$ 500.00
$ 75.88
 
$ 574.88
 10- CORPORATE SUBSCRIPTION AVAILABLE
Descriptions :
1- SEVEN (7) DAYS
Green fees on weekdays, weekends and holidays.
2- FIVE (5) DAYS *
Green fee on weekdays and from 10 am on weekday public holidays.
3- INTERMEDIATE 1
STUDENT 19 TO 25 YEARS OLD. Subscription valid for 7 days Weekends and public holidays. Before 7:30 AM and after 11:00 AM . Presentation of membership card required at all times during your registration at the shop.
4- INTERMEDIATE 2
STUDENT 19 TO 25 YEARS OLD* on 1st April  (student card). Identical privilege as 7 days subscription. Rate for subscription and green fee payable each game at 50% of the rate in effect. Presentation of membership card required at all times during your registration at the shop.
5- JUNIOR  1
STUDENT 12 TO 18 YEARS OLD. See rules for playing privileges. Limited number of members.
6- JUNIOR 2
STUDENT 12 TO 18 YEARS OLD. One of whose parents (father or mother) is a member.
7-Booklet 40+ 
(With the possibility of becoming a member)
With the purchase of a forty (40) rounds booklet, you can become a restricted member. The $ 85.00 fee includes; taxes, participation in member tournaments, club membership card, Golf Québec membership card (handicap system), membership committee dues. Note: To be paid to the administration only if the person wants to become a member and participate in tournaments.
8- BASKETS of unlimited balls at the practice area. 
Small basket and available for members only
9- ELECTRIC CART for all members & booklet (10, 20 & 40)
10- CORPORATE SUBSCRIPTION AVAILABLE
more information on request
The subscription includes: (except members booklets 40+)

1. Locker and shower service
2. Storage of clubs
3. Hand cart
4. Contribution to the Quebec and Canadian Golf Association R.C.G.A. except: Juniors
margin of error card (mandatory)
5. Privilege to book a tee time seven (7) days in advance
6. Reduced price on electric cart rental
7. Discount on season ticket to the practice area
8. Special discount at the pro shop
9. Closing dinner
10. Subscription to the members' committee (mandatory)
11. Participation in members' tournaments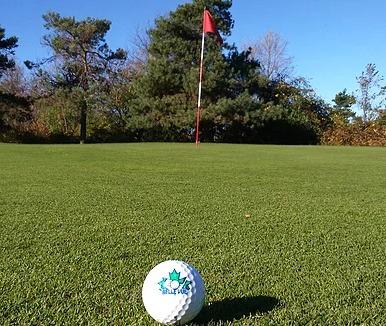 Subscriptions unpaid on March 1
st

 2022 will be due at the regular rate on March 2

nd

2022.

The Club is not responsible for lost, damaged or left items or golf equipment on the property.

The golf season will end on november 1st  2022.  If the club remains open after that date, a minimum fee may be charged to the member.

5-day members who participate in member activities on weekends and public holidays will be charged the green fee.

 
REGISTER NOW
at our GOLF CLUB !